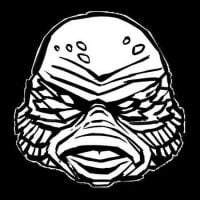 News Editor
Scott Wampler
Join Date: Mar 23, 2012 • Last Entry Date: Sep 20, 2019 • Articles: 3943
Scott Wampler is an online film blogger, Podcast host, and man of constant sorrow living in Austin, TX. His likes include CREATURE FROM THE BLACK LAGOON, the filmography of David Lynch, and the conspicuous consumption of alcohol. Dislikes include people and unfrosted Pop-Tarts.
Robert Eggers seems to have crafted a singular viewing experience with this one.

Spoilers inside, so don't come in here until you've seen the movie.

Please enjoy this double shot of Stephen King goodness.

This holiday season, maybe don't stay on campus.

Find out how Jack Hughes captured SUSPIRIA for this year's MondoCon.

Hoo, boy. This one looks powerful.

That night, Val Kilmer was everybody's Huckleberry.

Greg Ruth's bringing one helluva new screenprint to this year's MondoCon.

Osgood Perkins is back with another chilly horrorshow.