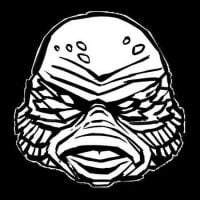 News Editor
Scott Wampler
Join Date: Mar 23, 2012 • Last Entry Date: Aug 26, 2019 • Articles: 3874
Scott Wampler is an online film blogger, Podcast host, and man of constant sorrow living in Austin, TX. His likes include CREATURE FROM THE BLACK LAGOON, the filmography of David Lynch, and the conspicuous consumption of alcohol. Dislikes include people and unfrosted Pop-Tarts.
Today is a day for celebration.

We think we follow what he's saying here.

It's Stanley doing Lovecraft with Nic Cage. What more do you need to know?

In which Scott relives the magic.

We definitely didn't see this one coming.

This one packs quite a punch.

In which director André Øvredal hits his third home run.

Yup, this movie's still happening.