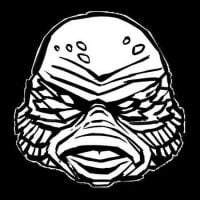 News Editor
Scott Wampler
Join Date: Mar 23, 2012 • Last Entry Date: Jan 16, 2020 • Articles: 4160
Scott Wampler is an online film blogger, Podcast host, and man of constant sorrow living in Austin, TX. His likes include CREATURE FROM THE BLACK LAGOON, the filmography of David Lynch, and the conspicuous consumption of alcohol. Dislikes include people and unfrosted Pop-Tarts.
Well, Stephen King fans - what'd you think?

It's time once again for the Neverending UNCHARTED Timeline.

Featuring Michael Bay's official hype beast, Bayhem.

What - and we really cannot stress this enough - the fuck?

FX's new sci-fi series looks great.

"Is that a hyena in a bathtub?"

And they're using period-authentic instrumentation.

Ten bucks says it still runs way too long.

In which Fukunaga sets up a post-BOND project.

Oh shit here come dat...doll.