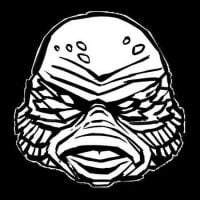 News Editor
Scott Wampler
Join Date: Mar 23, 2012 • Last Entry Date: Oct 19, 2019 • Articles: 3993
Scott Wampler is an online film blogger, Podcast host, and man of constant sorrow living in Austin, TX. His likes include CREATURE FROM THE BLACK LAGOON, the filmography of David Lynch, and the conspicuous consumption of alcohol. Dislikes include people and unfrosted Pop-Tarts.
From THE WITCH to THE LIGHTHOUSE to THE NORTHMAN.

Jeff Smith's iconic comic series is finally getting adapted.

This thing's gonna be awesome.

Scott's back with another round of incredibly stupid questions for the team behind this weekend's highly-anticipated zom-com.

We're all in for Jay Roach's FOX News takedown.

Ladies and gentlemen, welcome Shriek to the VENOM 2 stage.

Well, then, this TERMINATOR: DARK FATE clip may be right for you.

If you're not listening to this show, you are missing the hell out.

In which BREAKING BAD gets a very BREAKING BAD post-script.

You don't know. We don't know. Nobody knows.