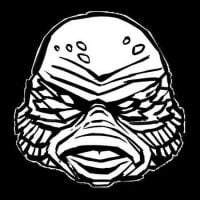 News Editor
Scott Wampler
Join Date: Mar 23, 2012 • Last Entry Date: Nov 09, 2018 • Articles: 3301
Scott Wampler is an online film blogger, Podcast host, and man of constant sorrow living in Austin, TX. His likes include CREATURE FROM THE BLACK LAGOON, the filmography of David Lynch, and the conspicuous consumption of alcohol. Dislikes include people and unfrosted Pop-Tarts.
In which Scott goes broke.

Prepare to enter The Flying Guillotine.

You just KNOW Satan's got a good lawyer.

Perhaps now he will finally be allowed to touch the Jabba.

This thing looks so goddamn good.

That makes two of us, sir.

Sounds like Jesse might finally get some closure.

(extremely Borat voice) Moderate success!

TV movie? Feature film? Original stars? We have no goddamn idea.