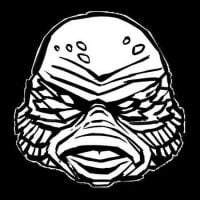 News Editor
Scott Wampler
Join Date: Mar 23, 2012 • Last Entry Date: Jul 16, 2018 • Articles: 3008
Scott Wampler is an online film blogger, Podcast host, and man of constant sorrow living in Austin, TX. His likes include CREATURE FROM THE BLACK LAGOON, the filmography of David Lynch, and the conspicuous consumption of alcohol. Dislikes include people and unfrosted Pop-Tarts.
Meet the new Paul Atreides.

The writer of BLADE RUNNER 2049 is taking on Jack London, and he's bringing Harrison Ford with him.

And we're thankful for it.

Attention, HOUSE OF LEAVES fans: this is for you.

One's headed for SDCC, the other two will be online. Which one's YOUR favorite?

If you want something done right, sometimes you gotta do it yourself.

You'll need to click through to see it. Hate the game, not the player.

There's a Djimon Hounsou under there!