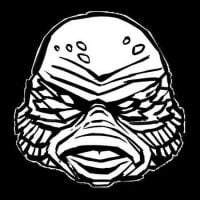 News Editor
Scott Wampler
Join Date: Mar 23, 2012 • Last Entry Date: Oct 19, 2019 • Articles: 3993
Scott Wampler is an online film blogger, Podcast host, and man of constant sorrow living in Austin, TX. His likes include CREATURE FROM THE BLACK LAGOON, the filmography of David Lynch, and the conspicuous consumption of alcohol. Dislikes include people and unfrosted Pop-Tarts.
Oh, and there'll be a new trailer, too.

Yet another big day for PINOCCHIO fans!

Sounds like VENOM 2 has found its Shriek.

Hard to believe, but Duncan Jones' sci-fi classic is 10 years old this year.

The casting on Matt Reeves' Bat-movie remains top-notch.

Get ready for IT'S AN ART SHOW, CHARLIE BROWN.

Here's your chance to crash Stephen King's place.

Please update your records accordingly.