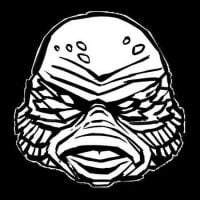 News Editor
Scott Wampler
Join Date: Mar 23, 2012 • Last Entry Date: Apr 23, 2019 • Articles: 3623
Scott Wampler is an online film blogger, Podcast host, and man of constant sorrow living in Austin, TX. His likes include CREATURE FROM THE BLACK LAGOON, the filmography of David Lynch, and the conspicuous consumption of alcohol. Dislikes include people and unfrosted Pop-Tarts.
James Wan and Stephen King, together at last.

Side note: Guillermo del Toro's remaking 1947's NIGHTMARE ALLEY.

He also ghost rides a motorcycle into a guy.

It's hard to imagine, but it looks like that's where we're headed.

Not this image, though. You gotta click through to see the real one.

Starting with ANT-MAN AND THE WASP.

Jerome Flynn's going from Westeros to Mid-World.

In which Ana Lily Amirpour delivers Scott's favorite new ZONE episode.

From Alex Ross Perry, no less.