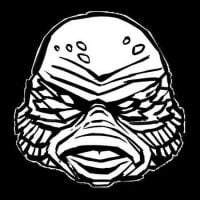 News Editor
Scott Wampler
Join Date: Mar 23, 2012 • Last Entry Date: Jul 15, 2018 • Articles: 3002
Scott Wampler is an online film blogger, Podcast host, and man of constant sorrow living in Austin, TX. His likes include CREATURE FROM THE BLACK LAGOON, the filmography of David Lynch, and the conspicuous consumption of alcohol. Dislikes include people and unfrosted Pop-Tarts.
You'll need to click through to see it. Hate the game, not the player.

There's a Djimon Hounsou under there!

In awe at the size of this lad. Absolute unit.

Directed by LORE's Cate Shortland!

In which a fictional character sets the record straight.

We can see where he's coming from here.

No idea what it's about or who he's playing.

And they'll be joined by a murderer's row of talent in FX's forthcoming adaptation.

Surely you've got a dollar to spare.