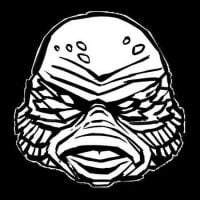 News Editor
Scott Wampler
Join Date: Mar 23, 2012 • Last Entry Date: Mar 17, 2020 • Articles: 4270
Scott Wampler is an online film blogger, Podcast host, and man of constant sorrow living in Austin, TX. His likes include CREATURE FROM THE BLACK LAGOON, the filmography of David Lynch, and the conspicuous consumption of alcohol. Dislikes include people and unfrosted Pop-Tarts.
You won't believe how well this movie holds up.

Well. We guess this shouldn't come as a surprise.

Who says social distancing has to be boring?

Including Leigh Whannell's THE INVISIBLE MAN.

De Palma went and co-wrote a novel and we've got the exclusive excerpt to prove it.

Matt Reeves' highly anticipated film is taking a relatively brief filming break.

And guess what? It rules.

Sign up for the BMD Newsletter, maybe get some free stuff. It's just that simple.

In which the dominoes continue to fall.

We're probably gonna be running this kinda story a lot over the next few weeks.