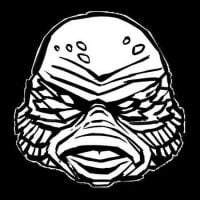 News Editor
Scott Wampler
Join Date: Mar 23, 2012 • Last Entry Date: Jun 24, 2019 • Articles: 3749
Scott Wampler is an online film blogger, Podcast host, and man of constant sorrow living in Austin, TX. His likes include CREATURE FROM THE BLACK LAGOON, the filmography of David Lynch, and the conspicuous consumption of alcohol. Dislikes include people and unfrosted Pop-Tarts.
Just wait'll you see what's inside.

In which Clooney goes post-apocalyptic.

We don't know how else to describe it.

This summer, enjoy Sweden.

Including, yes, Jamie Lee Curtis.

Starring Demi Moore and Alden Ehrenreich, no less.

Please welcome Anthony Carrigan to the BILL & TED stage.

Apparently Tim Robinson had s'more good car ideas.

It's the moment you've been waiting for, and it's right around the corner.

The Pixar movie, SOUL. Not Pixar's actual soul.