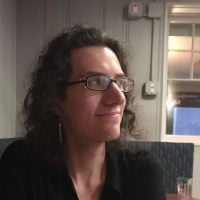 Leigh Monson
Join Date: Dec 28, 2016 • Last Entry Date: Jun 14, 2018 • Articles: 84
Leigh Monson is technically a licensed attorney but somehow thinks movies are a lot more fun. Leigh loves both award darlings and hilariously bad films, does not believe in superhero movie fatigue, and calls it like they see it.
Don't look at us. We didn't come up with that title.

Lindsay Lohan blue herself.

Four wonderful women aren't enough to save this fragmented rom-com.

Juliette Binoche is wasted on this shallow midlife crisis drama.

The magazine publisher kicks it off with OUR LADY OF THE INFERNO.

Now I've had the time of my life!

Catherine Zeta-Jones, what are you doing in a Lifetime movie?

Well, at least you get a reminder of all the hits.

In which Ben Falcone proves he should go back to film school.

Diablo Cody's latest wades in empathetic depths before drowning in the shallow end of the pool.

The Rachels are the highlight of this story of lesbian love against religious adversity.