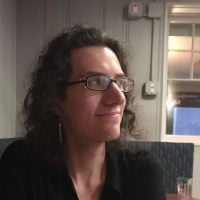 Leigh Monson
Join Date: Dec 28, 2016 • Last Entry Date: Aug 09, 2018 • Articles: 112
Leigh Monson is technically a licensed attorney but somehow thinks movies are a lot more fun. Leigh loves both award darlings and hilariously bad films, does not believe in superhero movie fatigue, and calls it like they see it.
Augustine Frizzell's middling stoner comedy still has a lot to love.

To understand why CRAZY RICH ASIANS is such an important landmark in Asian American cinema, we must first look at the history.

With a premise this good, what could possibly go wrong?

Kate McKinnon steals the show in this surprisingly bloody buddy comedy.

The real puzzle is how such a Hallmark premise was realized into a great performance piece.

But what if DIVERGENT wasn't entirely awful?

Drug addiction can make a monster of us… or reveal the beast already inside.

Can Lin-Manuel Miranda fill the cowboy boots of Sam Elliott?

DC making a joke of itself is the best flavor of DC.

The sequel to the hit musical is a better film that most fans will still like less.