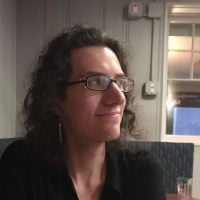 Leigh Monson
Join Date: Dec 28, 2016 • Last Entry Date: Oct 19, 2018 • Articles: 144
Leigh Monson is technically a licensed attorney but somehow thinks movies are a lot more fun. Leigh loves both award darlings and hilariously bad films, does not believe in superhero movie fatigue, and calls it like they see it.
Catch some near-forgotten video while jamming to the ANALOG APOCALYPSE!

It aims to be the feel-good movie of the year… but should it?

Damien Chazelle's Neil Armstrong biopic would be great… were it not for Neil Armstrong.

We don't think they made the movie they think they made.

This Dutch post-apocalyptic surprise proves that you don't need a budget to kick ass.

This infamous Oscar contender is an under-seen modern masterpiece.

More like CABIN IN THE WAVES, amirite?

David Robert Mitchell's latest really wants you to think it's the smartest thing in the room.

Ever wonder what it would feel like if Shane Black had directed a yakuza detective thriller? This is pretty close!

Mickey Reece is a name we won't forget anytime soon.

This vicious satire of Hollywood disability representation forces you to differentiate empathy and pity.