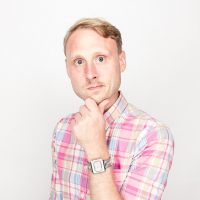 Senior Editor
Evan Saathoff
Join Date: Sep 15, 2011 • Last Entry Date: Mar 25, 2019 • Articles: 5008
Evan has been smartassing-up the Internet since 2008. His passions include dumb action movies, not-dumb action movies, Shakespeare, and Tyler Perry. While he claims to understand that people don't always get what they want, he nevertheless believes it would be "cool" if he could become more like Danny DeVito with age.
And probably not in a good way.

Time to read the Wiki for The Second Age.

The Sundance crowd pleaser is almost here.

Godzilla, you can come stand on me anytime.

Getting ready for everyone to die, looks like.

Carrie Coon is a lady. Hope that's okay with everyone.

Yes, yes. I will watch this.

Aha, you thought you were off the hook, but you were wrong!