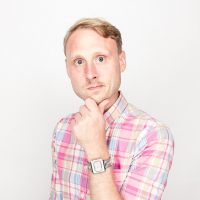 Senior Editor
Evan Saathoff
Join Date: Sep 15, 2011 • Last Entry Date: Jul 22, 2019 • Articles: 5150
Evan has been smartassing-up the Internet since 2008. His passions include dumb action movies, not-dumb action movies, Shakespeare, and Tyler Perry. While he claims to understand that people don't always get what they want, he nevertheless believes it would be "cool" if he could become more like Danny DeVito with age.
Jean-Luc is going back to space!

Any excuse to watch TOMBSTONE is worth it, but this is still a very special case.

Nothing really new here, but it's still good.

Bearded Javier coming at ya.

The MIDSOMMAR director discusses his influences.

Okay, well it's not ALL white, all white, all white.

You won't believe it, but these kids swear!

Oh man, we are getting so close.

Don't think about it too hard.

The reign of Ma Dong-seok continues.