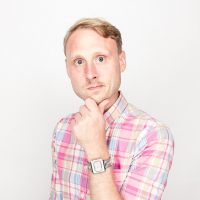 Senior Editor
Evan Saathoff
Join Date: Sep 15, 2011 • Last Entry Date: Jan 16, 2019 • Articles: 4940
Evan has been smartassing-up the Internet since 2008. His passions include dumb action movies, not-dumb action movies, Shakespeare, and Tyler Perry. While he claims to understand that people don't always get what they want, he nevertheless believes it would be "cool" if he could become more like Danny DeVito with age.
Feast your eyes on buff David Harbour.

Please, just give us this movie now.

And also maybe just a bit confusing.

So many great elements. So many bad cliches.

Look, there's not enough headline space for BIRDS OF PREY (AND THE FANTABULOUS EMANCIPATION OF ONE HARLEY QUINN) and there probably never will be.

It's all about that script.

Andy Serkis shows promise as a director in a film that doesn't fully work.

They didn't hold anything back on this one.