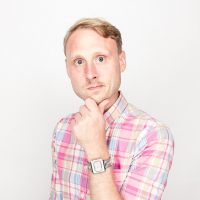 Senior Editor
Evan Saathoff
Join Date: Sep 15, 2011 • Last Entry Date: Oct 10, 2018 • Articles: 4865
Evan has been smartassing-up the Internet since 2008. His passions include dumb action movies, not-dumb action movies, Shakespeare, and Tyler Perry. While he claims to understand that people don't always get what they want, he nevertheless believes it would be "cool" if he could become more like Danny DeVito with age.
The tone of this one is starting to become more clear.

If you ever had a crush on Santa, this is the movie for you.

Plus, a first-hand glimpse behind the scenes of the film.

This is how you give Disney the middle finger.

They are accurately weird.

Are we being made fun of somehow?

Vega and Rambo will team up to take down Mexican drug cartels.

Can he live up to Montalban? Can anyone?

Michael Shannon mustache alert!

Just dying for this movie, over here.