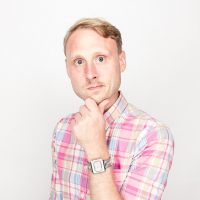 Senior Editor
Evan Saathoff
Join Date: Sep 15, 2011 • Last Entry Date: Jan 17, 2020 • Articles: 5286
Evan has been smartassing-up the Internet since 2008. His passions include dumb action movies, not-dumb action movies, Shakespeare, and Tyler Perry. While he claims to understand that people don't always get what they want, he nevertheless believes it would be "cool" if he could become more like Danny DeVito with age.
Welcome to Fantastic Fest Presents.

Things are getting trippy.

Or maybe YOU are the daddy.

Get your hand on what is sure to be a must-play game.

What idiots. It can't be done!

Maybe a different universe's version of the director will step in.

What memes are gonna come out of this one?

Also, some details on when you can finally see this delightful movie.