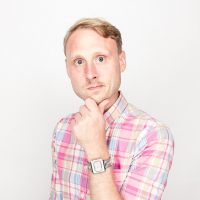 Senior Editor
Evan Saathoff
Join Date: Sep 15, 2011 • Last Entry Date: Apr 23, 2019 • Articles: 5055
Evan has been smartassing-up the Internet since 2008. His passions include dumb action movies, not-dumb action movies, Shakespeare, and Tyler Perry. While he claims to understand that people don't always get what they want, he nevertheless believes it would be "cool" if he could become more like Danny DeVito with age.
And this definitely sounds like it's in his wheelhouse.

Wow, this movie looks so good.

Including an appearance by Roger Corman.

What if this movie is fun when not cracking your heart open like a pistachio?

"A moment that even Fellini couldn't do, if he was still alive today."

This one with some actual Child's Play in it.

And that's pretty much all we know.

This is what your toys will look like at the store, minus the toys.

Whatever you think of the first TOMB RAIDER, this is very good news.

Time for those GAME OF THRONES actors to start getting new gigs.