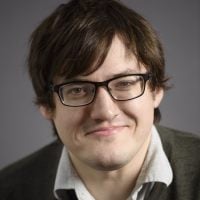 Gaming Editor
Andrew Todd
Join Date: Jan 06, 2014 • Last Entry Date: Feb 17, 2019 • Articles: 798
Andrew is a New Zealand-born writer, filmmaker, and theatre practitioner living in Montréal. He can be read at Birth.Movies.Death., SlashFilm, IGN, Polygon, and elsewhere. His favourite movie is MIRACLE MILE, his favourite band is the Manic Street Preachers, and his favourite commenters are the ones who read the article first.
Get ready to suspend some disbelief.

Adventures in the Mushroom Kingdom.

Looks like we're all gonna tune into a show for preschoolers.

Vote for the awards Oscar's choosing to ignore.

In which Mads Mikkelsen spends most of the movie dragging his co-star.

The first of a series of shorts from new Pixar creatives.

This week, the "giant space-dwelling organism" trope gets checked off.

Get ready for some tough, tough decisions.

STAR WARS: STILL UNTITLED

Don't let the energy vampires get you.

The Klingons return, with 100% more hair.