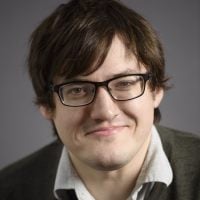 Gaming Editor
Andrew Todd
Join Date: Jan 06, 2014 • Last Entry Date: Aug 13, 2018 • Articles: 680
Discussions of the Force are highlights in the show's final release.

Brazilian director Dennison Ramalho turns in a strong feature debut.

Journey through the black-and-white newsprint horror ads of the '80s.

As messed-up as you'd expect from the writer of AUDITION.

Jonas Åkerlund's new film ain't for the faint of heart.

Helena Howard stuns in her abstract, emotional, brilliant debut performance.

Unknown as of yet who's playing its Hot-Dogger.

Put the kettle on: the galaxy's biggest Earl Grey drinker is back.

The martial-arts master goes back to school.

The feature cut of Sion Sono's TV series is in-fucking-sane.