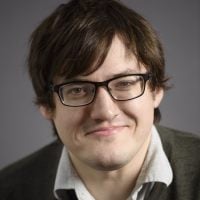 Gaming Editor
Andrew Todd
Join Date: Jan 06, 2014 • Last Entry Date: Oct 19, 2019 • Articles: 899
Andrew is a New Zealand-born writer, filmmaker, and theatre practitioner living in Montréal. He can be read at Birth.Movies.Death., SlashFilm, IGN, Polygon, and elsewhere. His favourite movie is MIRACLE MILE, his favourite band is the Manic Street Preachers, and his favourite commenters are the ones who read the article first.
Bungie's online shooter goes Full MMO in the newest expansion.

Disney cherry-picks its history to feed to the public.

An unsettling design for life.

Facial differences be damned - we're all damaged under the surface.

Some very unique uncanny effects going on here.

...immediately outclassing everyone around them.

He's in talks to play one of them, apparently.

Now an ally for both Bond and Batman.

A looping nightmare of grief, self-loathing, and nursery rhymes.

The R-rated version of the 1993 kids' movie delivers.

A flawed but ambitious all-star follow-up to HER STORY.