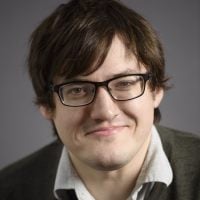 Gaming Editor
Andrew Todd
Join Date: Jan 06, 2014 • Last Entry Date: Oct 08, 2018 • Articles: 745
Andrew is a New Zealand-born writer, filmmaker, and theatre practitioner living in Montréal. He can be read at Birth.Movies.Death., SlashFilm, IGN, Polygon, and elsewhere. His favourite movie is MIRACLE MILE, his favourite band is the Manic Street Preachers, and his favourite commenters are the ones who read the article first.
This black-metal farce hits easy comedic notes, but hits them well.

TETSUO's Shinya Tsukamoto goes old-school.

Your new favourite Christmas high school zombie musical unleashes its first song.

Plus: actual female directors! On STAR WARS, for once!

Just a simple gunslinger making their way in the universe.

You, too, can become Camp Crystal Lake's most beautiful boy.

Dontnod's episodic series returns with a powerful opening salvo.

Russian culture hackers pulled a Palpatine.

The Safdie Brothers believed survivors. They still believe survivors.

The director of RUBBER and WRONG is back with more weird shit.