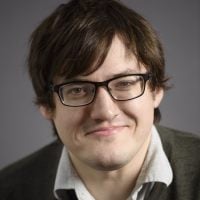 Gaming Editor
Andrew Todd
Join Date: Jan 06, 2014 • Last Entry Date: Dec 05, 2019 • Articles: 907
Andrew is a New Zealand-born writer, filmmaker, and theatre practitioner living in Montréal. He can be read at Birth.Movies.Death., SlashFilm, IGN, Polygon, and elsewhere. His favourite movie is MIRACLE MILE, his favourite band is the Manic Street Preachers, and his favourite commenters are the ones who read the article first.
Respawn's action epic is exciting, expansive, and surprisingly emotional.

Get that 2007-era action.

We'd love to have seen the pitch meeting for this thing.

Is Disney+'s flagship show a multi-million-dollar fan film?

Making sense of Lucasfilm's indecision paralysis.

Childhood's better than adulthood when adulthood means being a Nazi.

Obsidian Entertainment returns with a slam-dunk space Western RPG.

Bungie's online shooter goes Full MMO in the newest expansion.

Disney cherry-picks its history to feed to the public.

An unsettling design for life.

Facial differences be damned - we're all damaged under the surface.