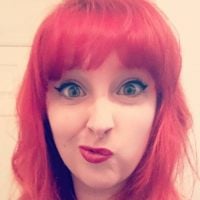 Amelia Emberwing
Join Date: Nov 22, 2016 • Last Entry Date: Apr 23, 2019 • Articles: 407
Amelia loved many things as a kid, but Harry Potter and Batman were what really brought her in to the world of fandom. Her tastes are eclectic and she firmly believes that one doesn't have to choose between Marvel and DC or Star Wars and Star Trek. Charities and well developed female characters are the way to her heart, and she survives on a steady IV of caffeine, rants, pixie dust and fangirling. Connect with her on Twitter @BrowncoatAuror!
He split Emiko's arrow in twain!

For the first time she's thinkin' past tomorrow!

You can't change people, but you can appeal to who they are.

Veronica? Archie Andrews is not worth being catty with Josie.

We're only as strong as we are together.

More shows with men saying "I love you" platonically, 2019!

I think he might be a crook?

Colonel Haley will go against the President's orders for donuts and donuts only.