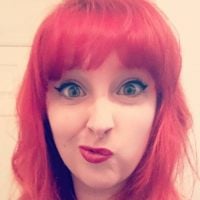 Amelia Emberwing
Join Date: Nov 22, 2016 • Last Entry Date: Dec 09, 2018 • Articles: 354
Amelia loved many things as a kid, but Harry Potter and Batman were what really brought her in to the world of fandom. Her tastes are eclectic and she firmly believes that one doesn't have to choose between Marvel and DC or Star Wars and Star Trek. Charities and well developed female characters are the way to her heart, and she survives on a steady IV of caffeine, rants, pixie dust and fangirling. Connect with her on Twitter @BrowncoatAuror!
Why is Archie Andrews the worst?

He has a vibe about you, Cisco. Get it? Eh?!

Give us an episode of Mick and Ava being pissed at each other, please.

Don't worry, Jughead. Betty doesn't need you or anything. It's fine. Go help Archie be dumb.

Just a little drunk hunting with Hemingway. What could go wrong?

Manchester crosses the line, but not the one that you think.

We're strong because we see the good in people. I hope that never changes.